Mood: Adventurous (Also not as sinus-y in case you were wondering)
Finally: Montmarte! We gathered at 9AM outside of Monaco house (our dormitory building).
Took the tram for then hopped onto the 14 (I think) to the stop Place de Clichy. We met our tour guide, whose name I have absolutely just blanked on (even though I made a mental note of it this morning so I could write it down later...), in front of the Moulin Rouge. The tour was amazingly informative. Last time I was at Montmarte, we just stuck to the steps of Sacre Coeur, ate, watched the sunset, then watched the street performers. I knew that Montmarte was the center of the bohemian life back in its artistic heyday home to (at one time or another) Lautrec, Renoir, Picasso, and Van Gogh... I just never never knew exactly where they used to live. I confined my last visit to the steps and the shops at the top of the hill with the best view.
This time around, with our tour guide, we were able to see a great number of places I would never have spotted if a seasoned guide hadn't pointed things out. Let's see if I can't give you an abridged virtual version guide of Montmarte...
---
Moulin Rouge
The Cafe from

Amelie
Van Gogh's apartment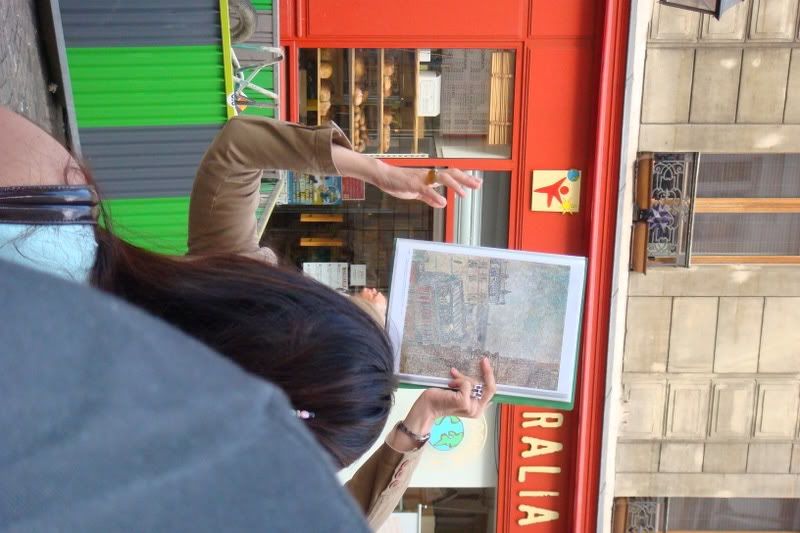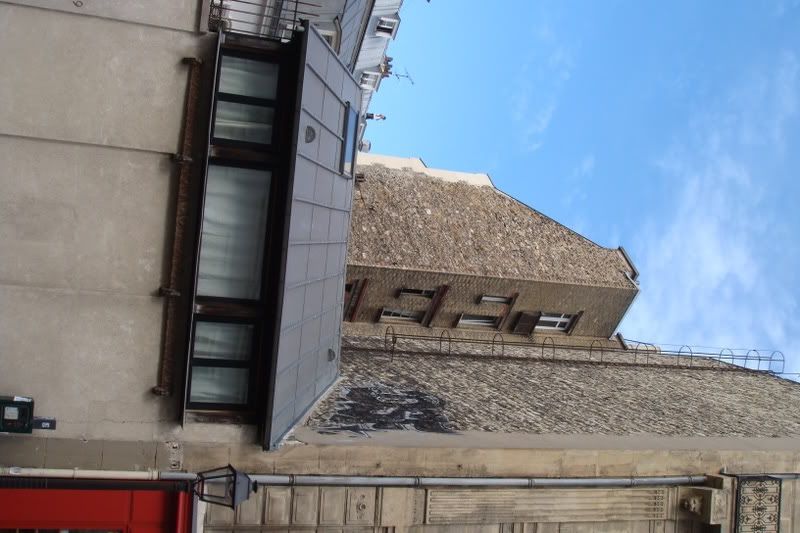 My attempt (short arms and all) to capture a glimpse of the view that inspired Van Gogh.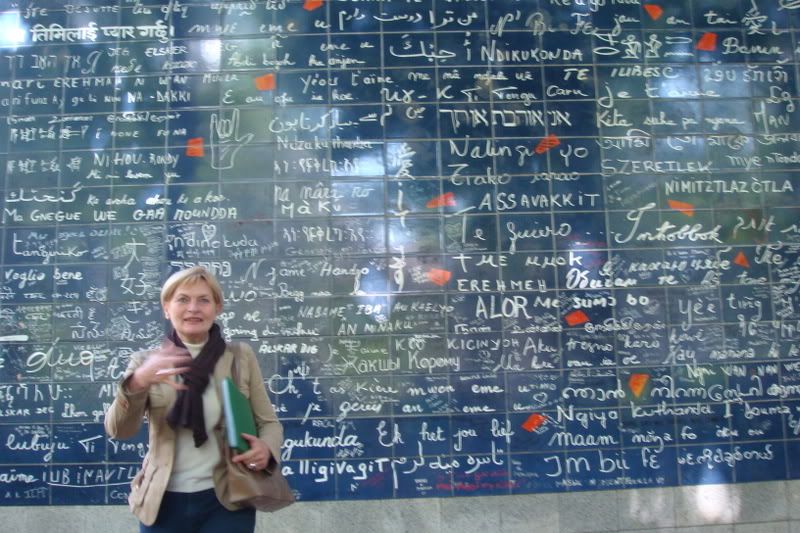 The Wall of "I Love Yous" -- and our tour guide!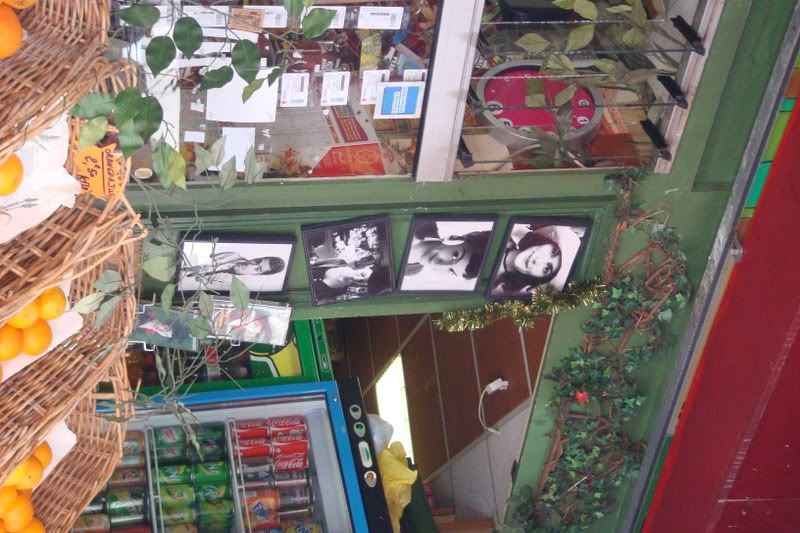 The Market from

Amelie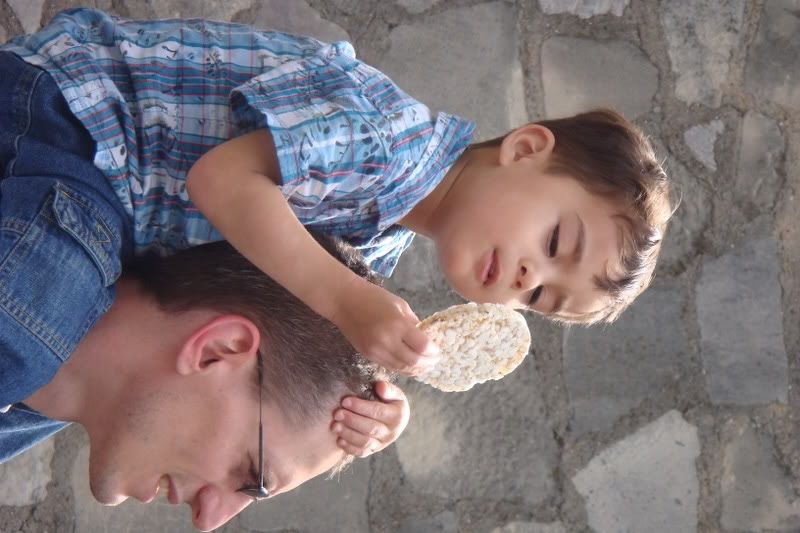 The Man in the Wall | Jonah and his cracker and Professor Herbst
People taking pictures of St. Denis statue
Meet the MMW 4 Summer 2008 Global Seminars Group! (Or at least most of us)
The tour guide is telling us about the vineyards you see on the top of the picture.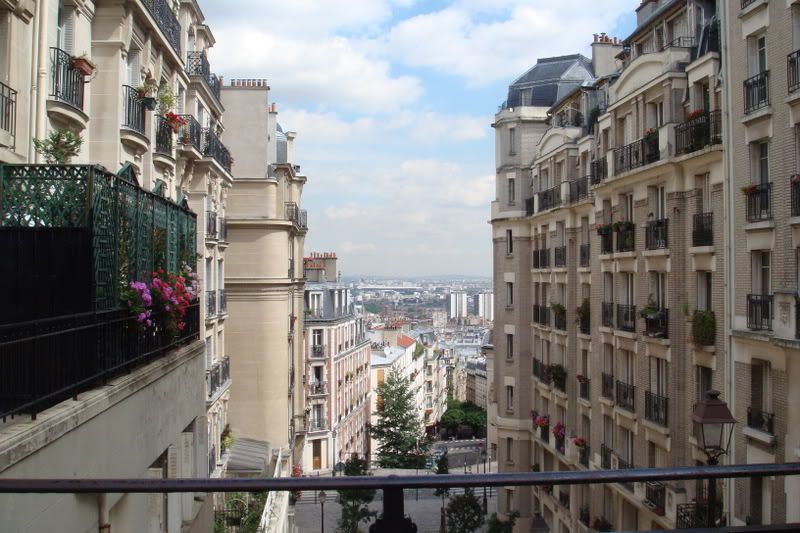 A nice view mid-way through the tour.
A garden where the artists used to paint?
The lovely Sacre Coeur. Or at least part of it. I wish I had a wide angle lens for this type of thing!
---


After the tour we split up into groups for free time. The group I was with decided to tour the inside of the Sacre Coeur (which I also have never been inside). It was very...grand inside. The "ring of light" that the dome makes (as viewed from indoors) really reminds me of the Hagia Sophia (and makes me wish I could see it!). Afterwards we walked around, looking for food, looking at the shops. I got a nutella banana crepe and I must say I was a little underwhelmed for the 4€ I had to fork over for it. The Latin District creperies are more generous with their toppings...


We kept wandering down the hill, backtracking through tour guide's route. I also enjoyed the tour for another reason: it allowed me to become more familiar with Montmarte as an entire area and not just Sacre Coeur. I feel more familiar with it and have developed a more detailed cognitive map. Hopefully if I go back / return again I'll kind of know my way around!


Artists and cafes of Montmarte

After that we kept walking down and ended up going to the Montmarte Cemetery that was quite eerie. We didn't actually walk through all the tombs, but apparently Edgar Degas and Emilie Zora are buried there. (Or at least Zora before he was upgraded to the Pantheon.) We then walked along the street that the Moulin Rouge is on--yes, the one strewn with sex shops and advertisements for peep shows. It all seemed rather benign despite their tacky neon lights and ...explicit choice of words. (I guess because I've walked through the Red Light District Before.) Also, one certainly gets a different impression of the area when strolling through it at 3 PM in the afternoon.

Anyway walking down most of the strip, we decided to see the old Opera house (Opéra Garnier, Palais Garnier, all the same). So we hopped on the metro (I am still not over how damn cool the metro is...I love it! I love good public transportation!!) and made our way there. It's really just a pretty building so we walked around it and then decided to head back because we were just so tired. All in a day, eh?


I'm not sure what I'm going to do with my entire day of free time tomorrow but I hope it involves me just wandering around the city. I really want to just hop on the tram or the metro and just ride randomly then pop up to see where I am. I should also check WikiTravel for some recommendations... I think I'm going to try to go the Orange Museum with Vicky and possibly the Eiffel Tour with her too because she's never been there before. Until next time ...

Bon nuit!

P.S. I'm going to have to get another shot of Sacre Coeur by late afternoon light and another one by evening because we didn't stay long enough this time...