Today was our last meeting with Dominique as we made our way around La Marais. (In English, this means marshland.) This area was at one point a marshland, a chic hip place where the aristocracy lived, and also home to a large Jewish community. We went to four hôtel particulier (Wiki defines as "an urban 'private house' of a grand sort.") and the Place de Vosges. I don't remember all the names of the places where famous influential people lived, but I tried to get pictures of everything. I had a little technical difficulty with my camera where it thought my 2.0 GB Memorystick was almost full, despite having only taken about 10 pictures... I only discovered this after taking 10 pictures but I didn't want to delete those by reformatting my memory card so I had to shoot the rest of the day in the lowest quality and also delete some other pictures. (I wanted to take pictures of
everything
at the Orangerie... I even tried to. But that's for later.) From about 9:30 to 12, we were led around the Marais by Dominique
Place de Vosges
Place de Vosges
Dominique telling us about the famous people who lived in Place de Vosges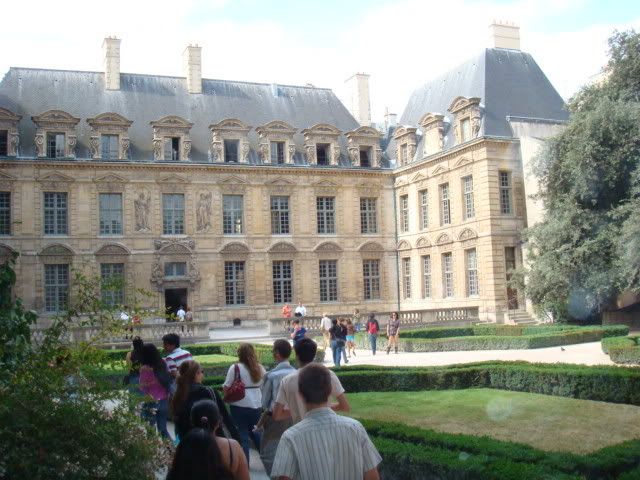 Hotel de Sully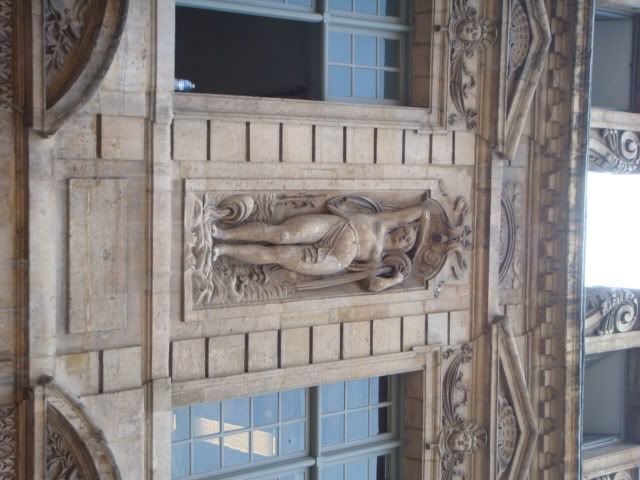 Ingres' muse for his famous painting of the girl with the jug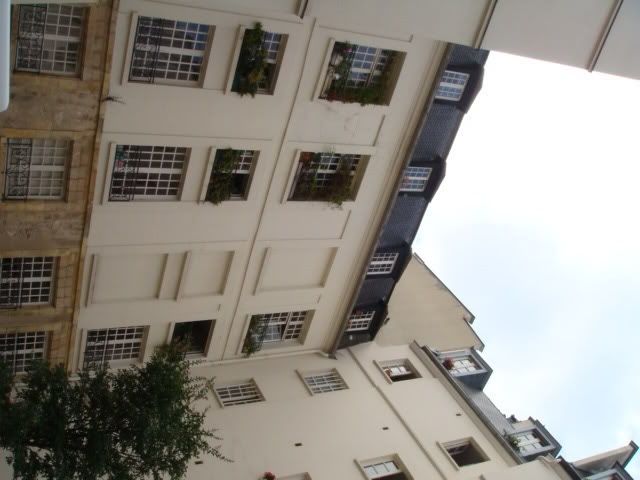 I forget the name of this place :( Does anyone remember?
A group of boys playing soccer on a basketball court.
A Medieval building that sounded like "seance"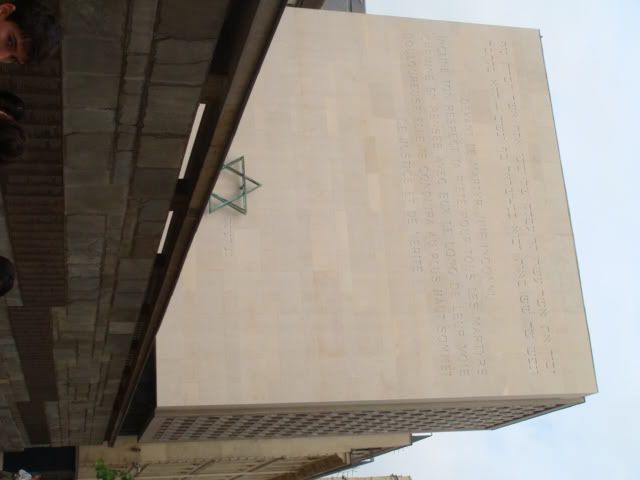 Shoah Memorial
Ex-Hotel Particulier, Current Court of Appeals
Vicky and I decided to skip on the Museum of Judaeism (which apparently was awesome... dang it) to visit the Musee de L'Orangerie. First though, we had lunch at a little cafe right by the St Paul metro stop. Three of us had amazing burgers with egg, bacon, lettuce, pickles, cheese, onions and tomatoes. It was so delicious I can still make myself hungry by thinking about it, hehe. Anyway then we went to the Orangerie which was, in short, incredible. It's like a smaller, more pointed Musee D'Orsay (also an amazing museum) but this is definitely one of my favorites. I am such a sucker for impressionism. I definitely lost myself in "Les Nympheas," Monet's lilies. The pamphlet describes them as "a gift from Claude Monet to the French State...they hang in two oval rooms as requested by the artist." It's simply breathtaking. There's natural light that filters in through the ceilings and through a mesh so the light comes in, but isn't too harsh. I probably could've stayed there for an hour just staring.
The rest of the museum features the collections of Jean Walter and Paul Guillaume. "Open to the public since 1984, the collection displays two seminal periods in French art. Impressionism is represented by exceptional paintings by Renoir and Cezanne; early modern art and the return to a degree of Classicism, typical of the period between the two wars, are illustrated by masterpieces by Modigliani, Le Douanier Rousseau, Picasso, Matisse, Derain, Utrillo, and Soutine" (L'Orangerie Pamphlet). I wanted to take pictures of everything. I wasn't familiar Utrillo, Soutine, or Laurencin but I'm glad I got to see some of their work. Just to warn you, my Photobucket Album has gotten really bulky because of the many, many pictures I uploaded... I've picked a few of my favorites for this entry but it'll be difficult to narrow down.