Today's lecture was a little stressful for me. Not entirely physically stressful (falling asleep / not paying attention etc.) it was more internal (uh oh, brace yourselves for some disorganized emotional quasi-philosophical logorrhea...I will keep it to one paragraph.) There's something very stressful about learning history, especially when it cover (as it often does) the senseless and systematic self-destruction of the human race. I don't know why this lecture should resonate more with me than the Mongol lecture, but the pointed cruelty that we learned of today just seemed so unnecessary and yet so frighteningly unpreventable. I guess a combination of general being tired and almost nearly always being around a group plus today's lecture equals a rather quiet me. Though on the bright side, Professor Herbst brought up St. Francis of Assisi. His story thoroughly impresses me and, in many ways, is incredibly uplifting.
After our lecture I did some reading and had some bread that Zak picked up at the Boulanger. (It was a wonderful, delicious, fresh baguette.) (OK I admit it I was sulking about the aforementioned stuff in my room and stole away to the quiet of my room while everyone else was at lunch.) In any case, our afternoon trip was a visit to Il de la Cite. We stopped at Chatelet from M-4 and met our tour guide. From there we explored a number of places including Notre Dame and Sainte-Chappelle. I actually had never been inside Notre Dame until today and it was actually quite quick. It was all very grand, but much busier that St. Denis Basilica so I don't think I quite got to appreciate it the same way. There was, however, a neat choir that started to sing in the church which certainly contributed to the experience.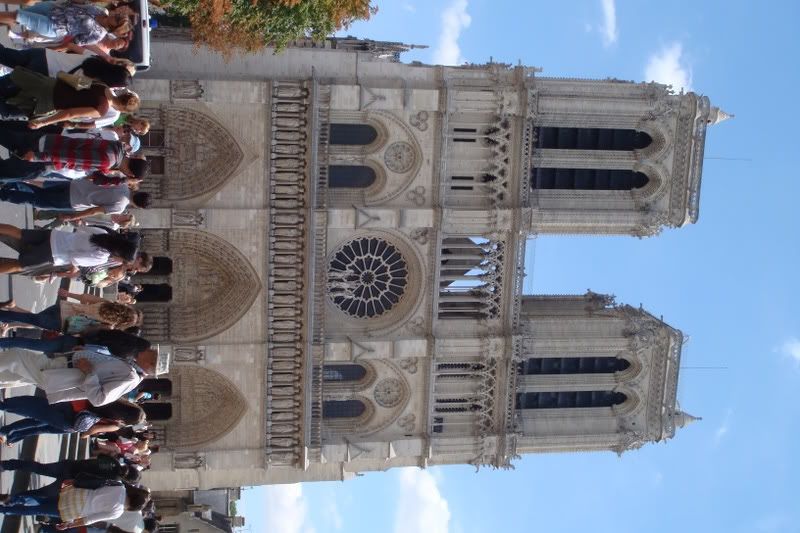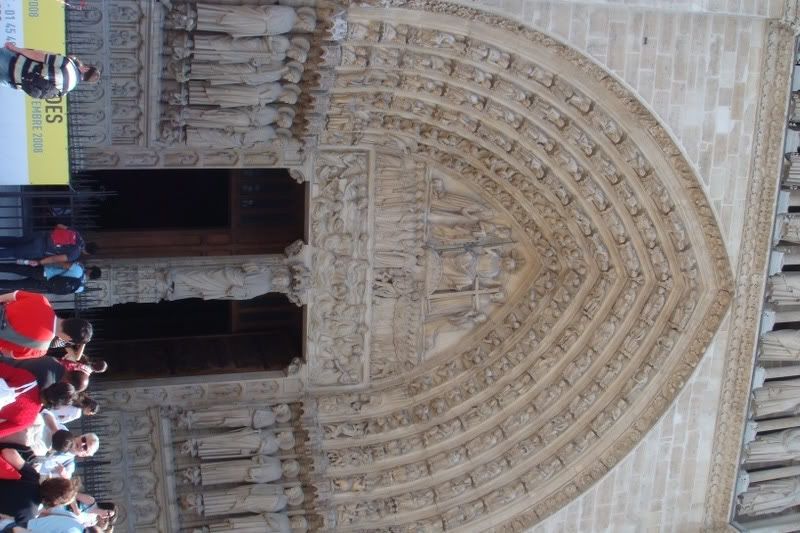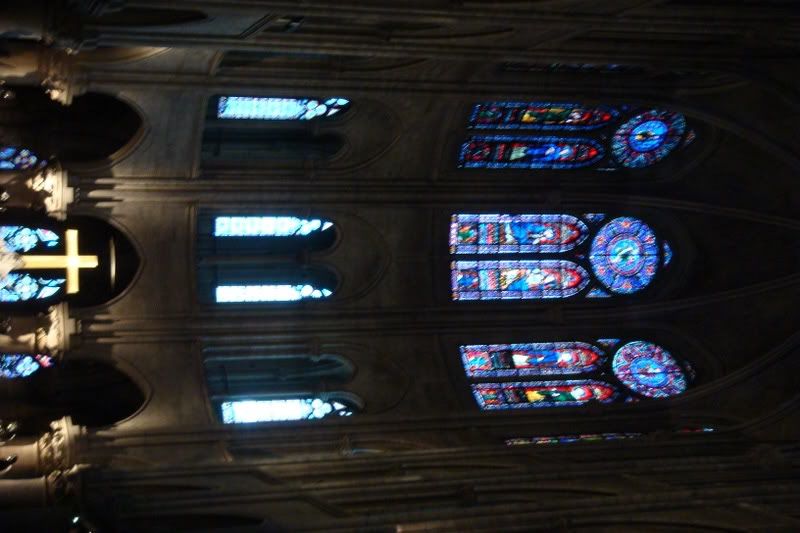 We got to go into Sainte-Chappelle via the Palais du Justice instead of waiting in line. (We felt really important.) The gift shop / information area of the chapel on the first floor was decorated impressively the way we think it used to be -- brilliant gold, red and blue.
I personally prefer the plainer stone condition that most churches are in today but it was quite beautiful. We climbed the steps up to the chapel, and the chapel is simply spectacular. Part of me doesn't want to show you pictures because it doesn't, in any way, substitute being there in a relatively small room, the walls of which mostly comprise grand stained glass windows. But of course I will share what I have and hope it tempts you into coming (back) to Paris!: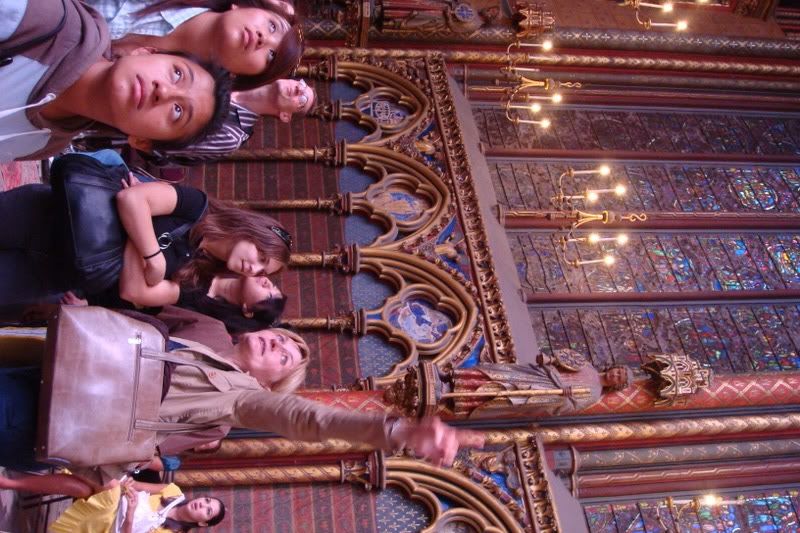 Afterwards we had free time--I desperately craved frites avec ketchup as I had only Prince cookies for breakfast/snack and parts of a baguette. We got some frites and some people got ice cream, then we walked to the park behind the Notre Dame (mm to admire those wonderful flying buttresses! Possibly my favorite architectural achievement) but we had mostly finished our snacks by then so we returned back to CiUP where I promptly fell asleep until about 9:00 PM...
(But not before stubbing my toe pretty badly on a gate locker on the way out of the RER at Cite Universitaire...I have a picture of it for personal reasons but I'm not showing haha!)
And now it's time to read. I feel much less somber and upset by the atrocities of humankind and still believe in the potential good of (wo)man.